The Black Goat of the Woods Wine Club and Wine Bar Project
You did it! You helped bring LoveCraft Wines to the market by supporting our last IndieGoGo campaign! Now we are asking you to help again by supporting us in opening our future wine bar by becoming members in our exclusive Black Goat of the Woods Wine Club!
LoveCraft Wines can ship WINE to every state in the USA EXCEPT Pennsylvania, Utah, and North Dakota. Due to complications shipping WINE overseas we will not be shipping wine vouchers internationally during this fundraiser. If you are overseas please contact us at LoveCraftWines@gmail.com on an individual bases and we will see what we can do to ship to you. We cannot ship wine vouchers to FRANCE or CANADA! If you are ordering anything other than WINE vouchers we can ship anywhere!
Are you a wine bar, bottle shop or restaurant? We would love to talk to you about shipping cases of wine to your establishment. Drop us an email to find out how you can donate to our campaign.
Black Goat Wine Club Certificate
$30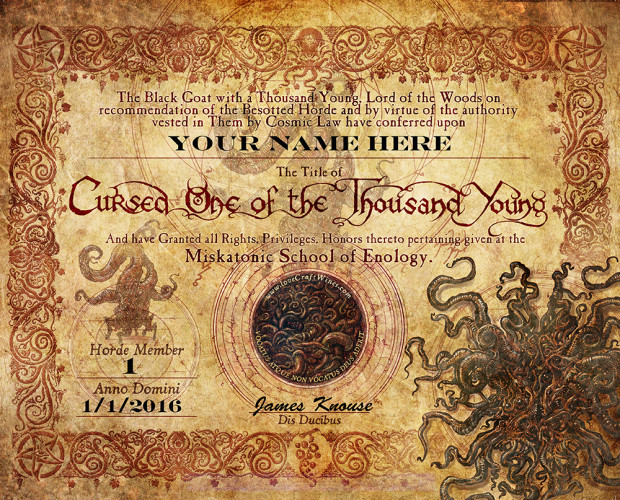 Become a Cursed One of the Thousand Young and get your name enshrined in our blasted tome and your name emblazoned on your very own 11" x 14" Black Goat of the Woods Wine Cult certificate.
*The only way to get our limited edition wines in the future is by joining the Black Goat of the Woods Wine Club and the only way to become a member is through this IndieGoGo campaign!*
Wine Club membership entitles you to the members only wine club selections. Lifetime Free domestic shipping on all wine orders over $100.
Quarterly Wine Club Shipment
$70
Each shipment will consist of at least 2 limited edition wine vouchers and free rotating horror inspired gifts. Lifetime $12 quarterly shipping on all wine club shipments in the continental USA.
Your first shipment will also contain your Black Goat of the Woods Wine Cult Certificate entitling you to our members only wine club selections, rare vintages, 20% discount on our website, special event invites, wine club exclusive wines, autographed editions and more.
Lifetime Free domestic shipping on all wine orders over $100.
Additional shipments will be set up on recurring quarterly payment of $70 plus s/h. Wine vouchers through received through this IndieGoGo campaign may be redeemed for additional wines in your club shipments.
First Wine Club Shipment will consist of a bottle of the first in our Necronomicon Cabernet Sauvignon series wines: Alhazred featuring the front label art of Francois Launet, One bottle of Lost Cities Pinot Noir series: Sunken R'Lyeh with art by Michael Plondaya, a paperback copy of the Dark Renaissance title Tales of Alhazred by Donald Tyson and a Black Goat of the Woods Wine Certificate.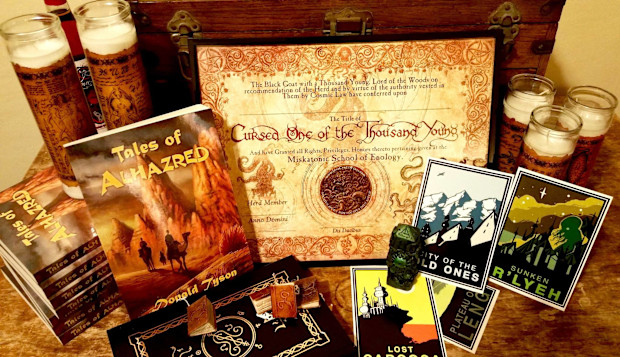 Wine Club Shipment dates: Jan, Apr, July, Oct.
Prepaid Quarterly Wine Club Shipment
$350
Pay for ONE YEAR of wine club shipments in advance and receive in addition too everything listed above a hand painted and signed and numbered Statue of Yog-Sothoth created by Frank Walls, a FREE Mini Necronomicon Wine Bottle Charm,a paperback copy of THE REVENANT OF REBECCA PASCAL, and a set of postcards by artist Michael Plondaya.
You will also receive 3 more wine shipments in April, July and Oct. of 2016 containing at least 2 wine vouchers, and gifts T.B.A.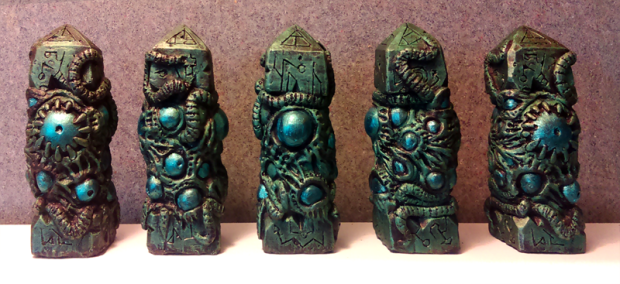 Statue of Yog-Sothoth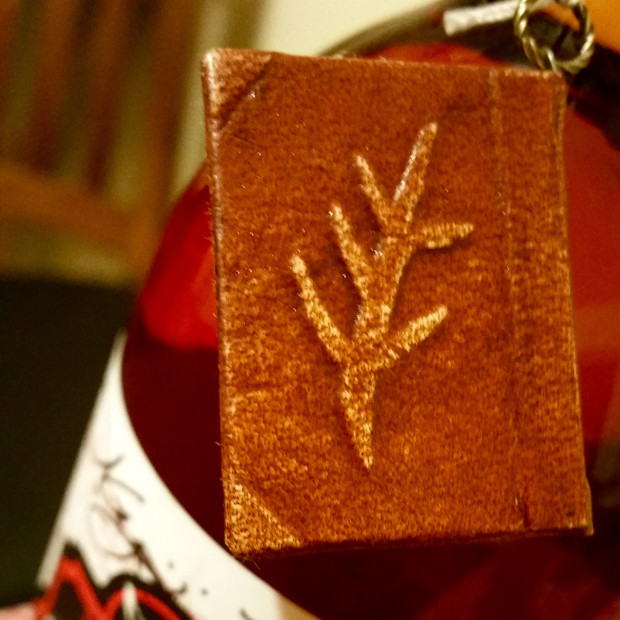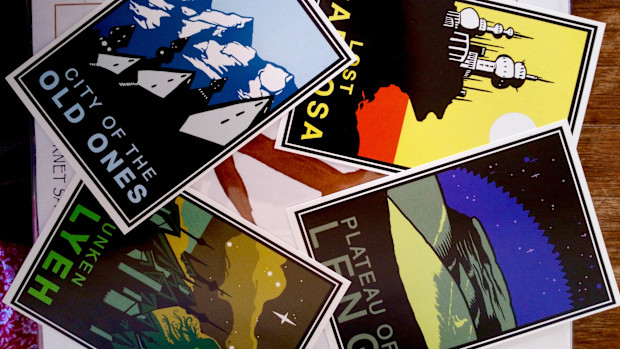 Neconomicon Wine charm and Postcards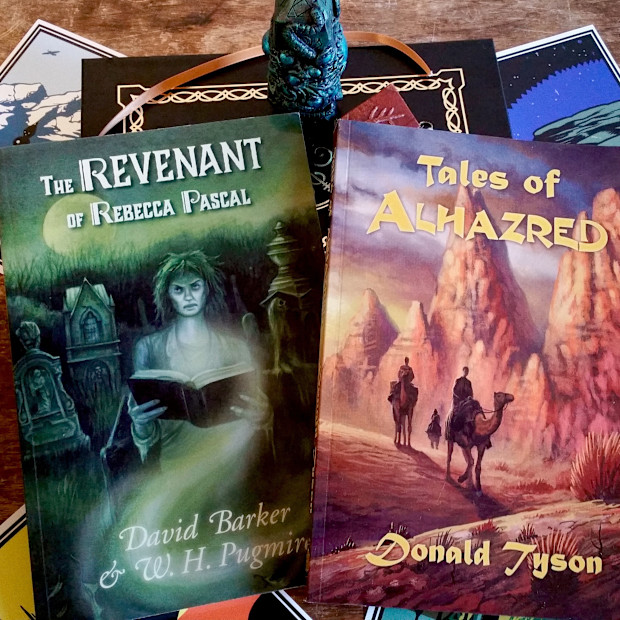 THE REVENANT OF REBECCA PASCAL by David Barker & W. H. Pugmire and Tales of TALES OF AHAZRED by Donald Tyson
ADD ONS!
All Add Ons will arrive in your your first January 2016 Wine Club Shipment!
Add On
Additional Wine Voucher
$25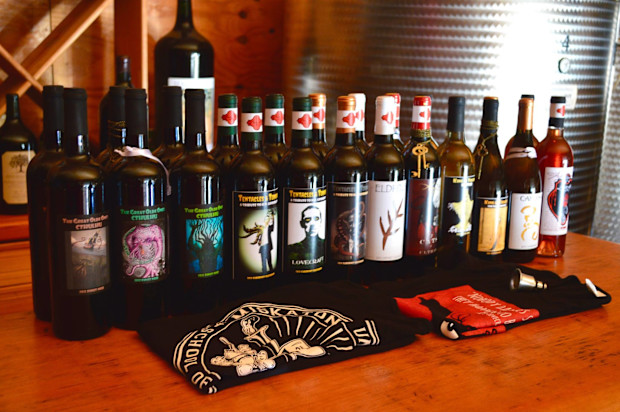 Additional wine vouchers are good for any of our wines currently listed on the LoveCraft Wines Webstore. You may also hold on to your wine voucher to add to a future purchase. Voucher may not be used to replace a wine in your quarterly wine shipment.
Add On
Mini Necronomicon Wine Charm
$20
LoveCraft Wines is teaming up with Small Magic Bindery to offer exclusive hand crafted wine charms to go along with your wine club orders. The Wine Charm Books will contain the art work and poetry for the wine labels for the wine club shipments they are sent with.

Add On
Candle
$15
Drink your wine shipment and read the Tales of Alhazred by the light of a mythos inspired candles by Small Magic Bindery.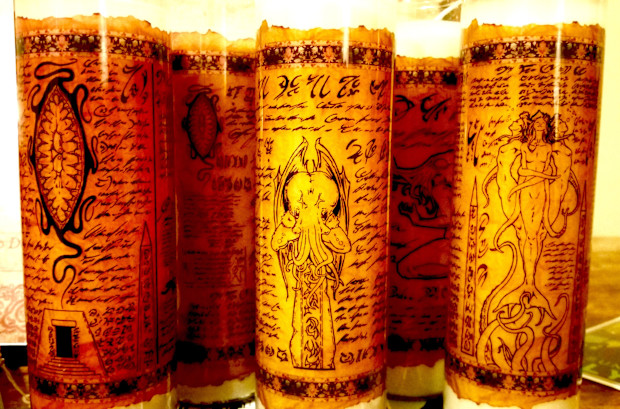 Add On
Set of 4 Cities of Lovecraft Post Cards
$7
Receive one set of 4 postcards by LoveCraft Wines Label Artist Michael Plondaya.